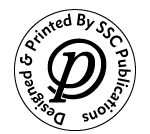 Design & Print Services for the SSC Community
Our Mission Is To Serve Our Students and the Community Through Lifelong Learning
SaveSave
SaveSave
SaveSave
Graphic design
Full-color digital printing
Black/white copy
Large format printing (banners and stands, fine art, signage, etc.)

Binding (spiral/comb/MetalBind/saddlestitch)
Finishing (folding, trimming, collating, hole punching, laminating)
Labels
Paper by Ream
Cases of White Paper
Envelopes
Letterhead
Display & Signage Supplies

Catalogs & Student Handbooks

*Please order separately from other Store items!

Class Record Forms
Certificate Paper & Jackets
Folders
Name Badges (Magnetic)
Tablecloths
---
Printing & copying in both black only and color are available.
The costs for printing and copying are based on the number of impressions per original. An original is one printed side in the set of what is being printed or duplicated. For instance, if you have a 5-page one-sided document to print, you have five originals.
Multiple colors, sizes, and weights of paper are available for printing. Pricing varies based on the requested paper's availability, weight, and finish.
Wide-format poster printing is also available in the Print Shop, up to 24" wide, on various stocks, with much more available by special order. Costs are calculated by poster dimensions.
Finishing Options
There are multiple finishing options available.
stapling (multiple positions)
padding (glue binding)
3-hole punch
booklet production (saddle-stitching and face trimming)
spiral binding
comb binding
MetalBind (Hard and softcover bookbinding)

lamination
dry-erase lamination
grommets (metal & plastic)
shrinkwrap
bulk paper cutting
bulk paper folding
carbonless forms (up to 3-part)
SaveSave
SaveSave
SaveSave
SaveSave
SaveSave
Located in Room 2361, Main Campus, 15800 S. State St., South Holland, IL 60473
News
Due to the current tech outage, we cannot print directly to our presses. We will need a hard copy or a file on USB/email.
Customers must enter all orders through Print Shop Pro.
Publications do not offer translation services; you must have documents translated before submitting them to Publications.
Cases of white paper can be purchased in our store. Physical Plant will deliver these orders.
All other paper orders, such as individual reams, letterhead, envelopes, etc., must be picked up in Publications in room 2361. The only exception is ordering from the Oak Forest Center; these will be delivered via interoffice mail.
Email publications AT ssc.edu with any questions.
Notes
---
SHIPPING: We do not ship outside the College. All jobs must go to a College Address or be picked up in Room 2361 on the Main Campus.
Remember to select "Personal Job" as your Site when making a personal order.
Feel free to call us at 2228, 2489, or 2466 if you need assistance or information on your options.
If you would like to create a project in a size or format not available here, don't hesitate to contact us, and we will make the option for you. It's no trouble.
Paper:
Please make sure you are choosing the correct paper for your order. Use the dropdown boxes to select paper types, weights, and colors.
For reference, most flyers and brochures are printed on 80# Glossy Text.
Certificate paper is preprinted with a pattern and should not be used for non-certificate jobs.
---
Services & Policies
If a print or design job proof or question from the print shop goes unanswered for over 30 days, we will cancel the job, and it can be resubmitted later when the client is prepared to follow through on the job.
Design
---
Professional graphic design services are available from the Publications Department.
SSC Clients
Design services are free for all College projects, and the administration has mandated that Publications approve all external-facing print publications. College projects are expected to observe a limit of 3 proofs in most circumstances.
Community Groups, Students, Personal and Other Outside Clients
Outside projects are billed for design at $25.00 per hour. A $5.00 setup fee is charged for outside projects requiring less than 1 hour of design work, and external projects are second priority behind College work.
Outside jobs must be paid at the cashier before printing is started. We are no longer printing non-college jobs that have a charge under $1.00.
Print
---
SHIPPING: We do not ship outside the College. All jobs must go to a College Address or be picked up in Room 2361 on the Main Campus.
Rush Charges: Some jobs are eligible for rush service. Rush service is your project being processed outside normal timeframes before other jobs. (If this option is unavailable, that format is ineligible for rush processing.) These jobs incur an extra fee starting at a minimum of $25.00.
By selecting a rush job, you agree to pay the extra fee charged. Rush jobs may be subject to paper or binding type substitution in the case of shortages. We will notify you if this is the case.
Errors & Changes: Please review your print order carefully before submission, and check your received order for correction and completeness. We allow a 14 business-day grace period after order completion for free reprints of jobs with Publications errors, and client errors will not be reprinted for free. (Final approval of a graphic design job that contains errors is a client error, and this is an industry standard.)
Examples of Errors

| Client Errors | Publications Errors |
| --- | --- |
| Wrong Specifications for Job Ticket | Not following Job Ticket Specifications |
| Job approved with errors | Job printed before design approval |
| Not responding to inquiries in a timely fashion | Torn paper, poor-quality prints |
We print according to the job ticket after any approved graphic design work. If you think there is a mistake in the order, please call or email Publications@ssc.edu immediately to revise the ticket before printing. You can access your order ticket in the "My Orders" screen to check for corrections.
---